La Maison Angelvin, harvesting and distilling essential oils for 4 generations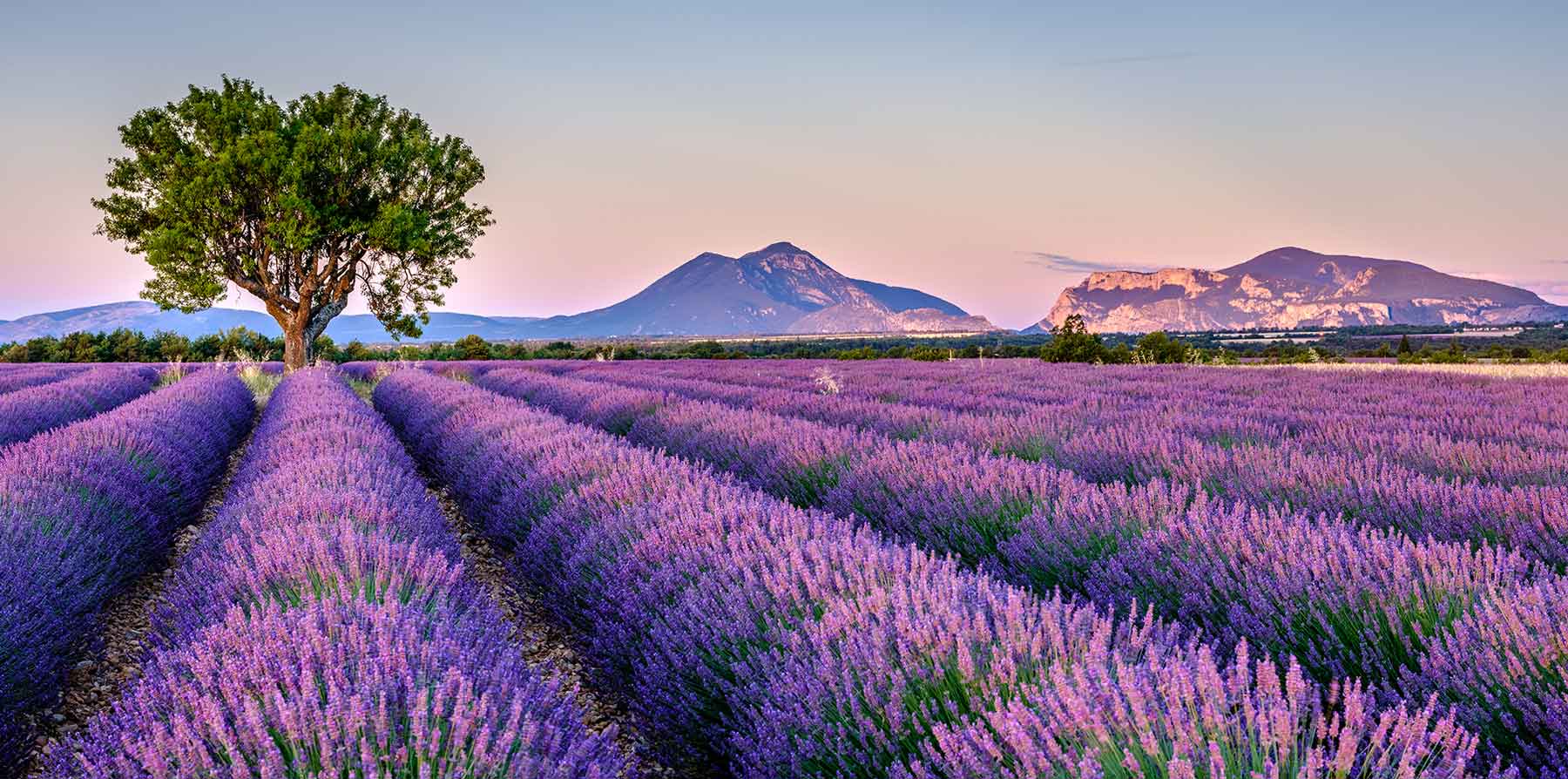 On the plateau of Valensole, in the heart of our beautiful Provence
Here on the Valensole plateau, the purple of the lavender fields contrasts with the light yellow of the durum wheat fields. The subtle pink of the clary sage and the yellow of the immortals complete the picture. You will also discover the fields of olive and almond trees, emblematic and unavoidable trees of our beautiful Provence. It is a magnificent checkerboard of colors that is offered to you!
The family farm La Maison Angelvin is located in these beautiful landscapes: the best is to come and discover it by yourself!
The Angelvins, lavender growers from father to son
In 1957, "Pépé Louis" Angelvin created his distillery, one of the first on the Valensole plateau. Alongside his son Lucien, the work is traditional: cutting with a sickle, harvesting and loading by hand, then heading for the family distillery.
1974 saw the arrival of the first mechanical cutter with great fanfare. It is then a big step forward and Lucien has a great time on his new machine, under the eyes of his son Jean. Lucien retired in 1997 leaving Jean to succeed him.
Jean, as did Lucien in his time, left his mark on the harvesting and distillation of lavandin: he developed the 4-row harvester (the only one of its kind in France to date), and developed the famous "Papa" condenser, which has become the standard for most of the latest generation distilleries.
The great-grandchildren of "Pépé Louis" are showing their face on the family farm. From now on, Jean can free up his time to devote himself to the direct sale of his products, by creating his brand "La Maison Angelvin".
Farmer since 1984, Jean Angelvin, also cultivates the clary sage, the immortelle and offers for sale essential oils, olive oil, olive oil lemon, honey, truffle pâté, almonds …
The kiosk store is open at the heart of the farm, from May to September, and throughout the year on the website: www.lamaisonangelvin.fr
A superb villa for your vacations in Puimoisson
La Maison Angelvin also offers you a magnificent villa for 12 people in the heart of the village of Puimoisson on a very large fenced plot.
Enjoy all the comforts of a premium rental, swimming pool, summer kitchen with pizza oven, barbecue, bowling alley, children's games, ping-pong table, mountain bikes for adults and children at your disposal. You will spend unforgettable moments in the greatest calm and the strictest privacy.
---
Find Maison Angelvin on social networks
The Angelvin House
Hospital Campaign
d56 between pruimoisson and valensole
04500 Riez
Tel. 07 86 25 39 83
Email : lamaisonangelvin@orange.fr